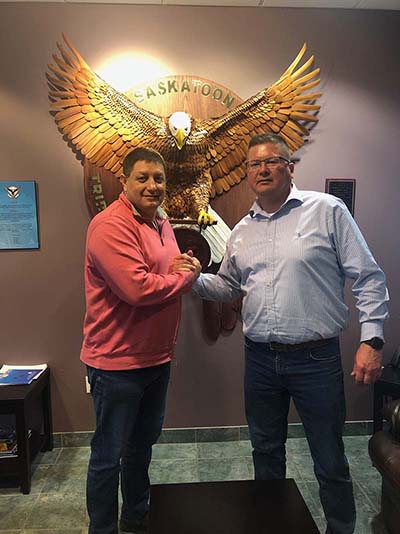 ---
Tansi Ochapowace Members,
I am proud to announce that I have met with Tribal Chief Marc Arcand of the Saskatoon Tribal Council and have come to a understanding for our urban members who live in the City of Saskatoon. The STC provides services in the city limits of Saskatoon so our members can utilize this service immediately. This is a huge step when it comes to Nation to Nation building and working together for our future generations.
The below programs are what Saskatoon Tribal Council provides that can benefit our Saskatoon Urban members:
Cress Housing:
- 400 homes in the city of Saskatoon that our members can apply for
-if successful there is 2 categories (1) market rent ex $1000 month max rent
(2) subsidy based on amount of income
Employment Training Services ( ETS ):
Employment and training
Apply for education assistance
Employment
work experience partnership
legacy partnership (12 week program)
First time moving to city programs
Computer service programs
First time moving to city programs
Advisors (boots and work clothing)


Education:
Pathways to Education

Support for high school students
Tutoring
Family support

Saint Francis School (K – 8)

Cree emersion
Free bus rides for students to the Cree emersion schools
Subsidized Day Care services

Confederation Park
Edfeehn High School
Health:
Saskatoon Tribal Council Health Center

Needle exchange program (no cost)
Elders support, specialized councillors, Nurse and doctors
Chums and Pales

Working with parents and families
Mental health services

Prevention Services

24 hour services
6 active homes in the city limits for apprehended children

Living Well Coordinator

Provides mental health services
Case conferences
Justice (White Buffalo Lodge building):
Court House workers (all ages)
High risk sentences (age 12-24) advice

Working with youth to integrate them into society

Alternative measures
Weekday and weekend programs
Information on court process
Road to relicensing (programs to get license)
White Buffalo Youth Lodge
Family programs (after school program (ages 6-13) various activities boys and girls clubs
Saskatoon City Police programs
General programs – floor hockey, volleyball, basketball, hand drums, youth drumming programs, dance programs, cooking classes, family swimming, fitness center
Early morning Programs – walking group, nutrition
Dental therapists
Nurse Practisoner
Planned Parenthood
Self defense classes
Back to school Back Pack program (August 29th, 2019)
Ochapowace kids can have access to this program – school supplies, touques & mits

Carnival day with this program

STC annual Xmas dinner (December free meal and a free gift)
This is a great step for the Ochapowace Urban members living in the city of Saskatoon. Please utilize the services that Saskatoon Tribal Council will provide. In the near future Cassandra Taypotat will set a date and location for the above services that STC provides and will be doing an information session in Saskatoon for our Urban members.
The contact information is: Saskatoon Tribal Council
355 Packham Avenue
Saskatoon, Saskatchewan
S7N 4S1
(306) 956-6100
I would like to thank Tribal Chief Marc Arcand and Saskatoon Tribal Council for providing the services and a central hub for our Saskatoon Urban members.
Ekosi,
Tim Bear
Headman