Program Description
The Labour Force Development Program is the administration of a quality validation process for the recommendation of clients for financial assistance based on case by case management through submissions of Client Activity Plans and Activity Budgets to the appropriate funding agency. In addition to client intakes we coordinate service delivery contracts with Training institutes for the coordination of specific training activities.
Freida Sparvier - LFD Coordinator
(306) 696-6513
lfd@ochapowace.ca
---
Federal Student Work Experience Program (FSWEP)
ONGOING STUDENT RECRUITMENT also includes Employment Opportunity for Students with Disabilities (EOSD) & Indigenous Student Employment Opportunity (ISEO)
Are you a student searching for a full-time or part-time work opportunity? Apply for a Government of Canada student job!
As the country's largest employer, we are proud to hire thousands of students every year to support us in delivering services to Canadians.
For more information and to apply, click here
---
What is LFD?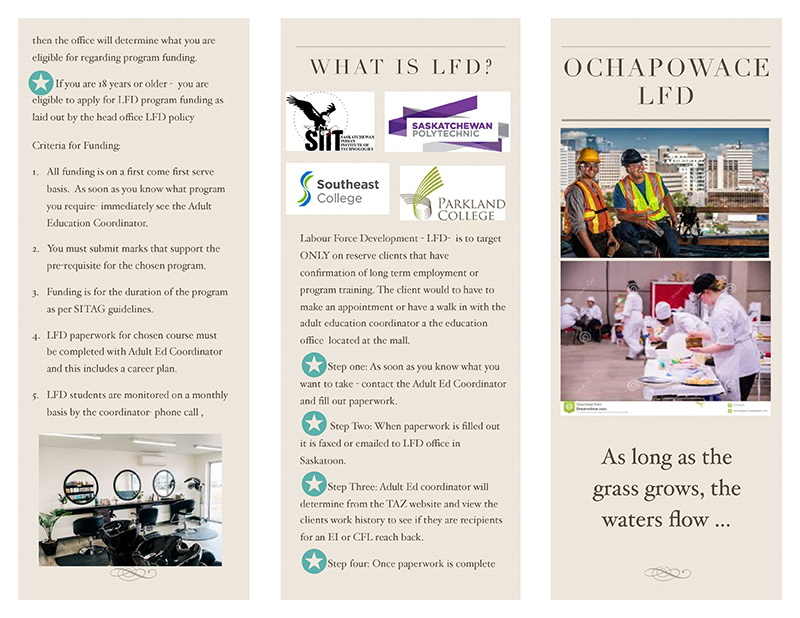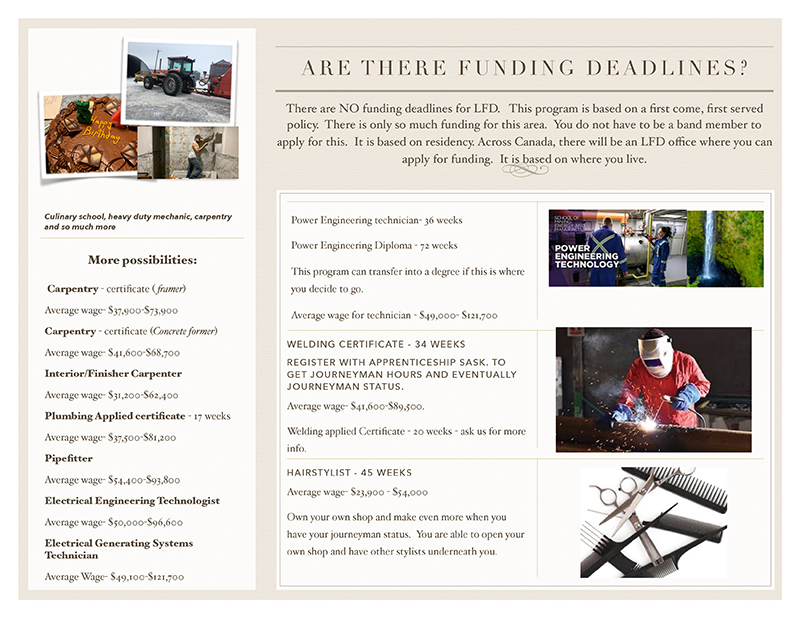 ---
4 Nation Multi-Trade Program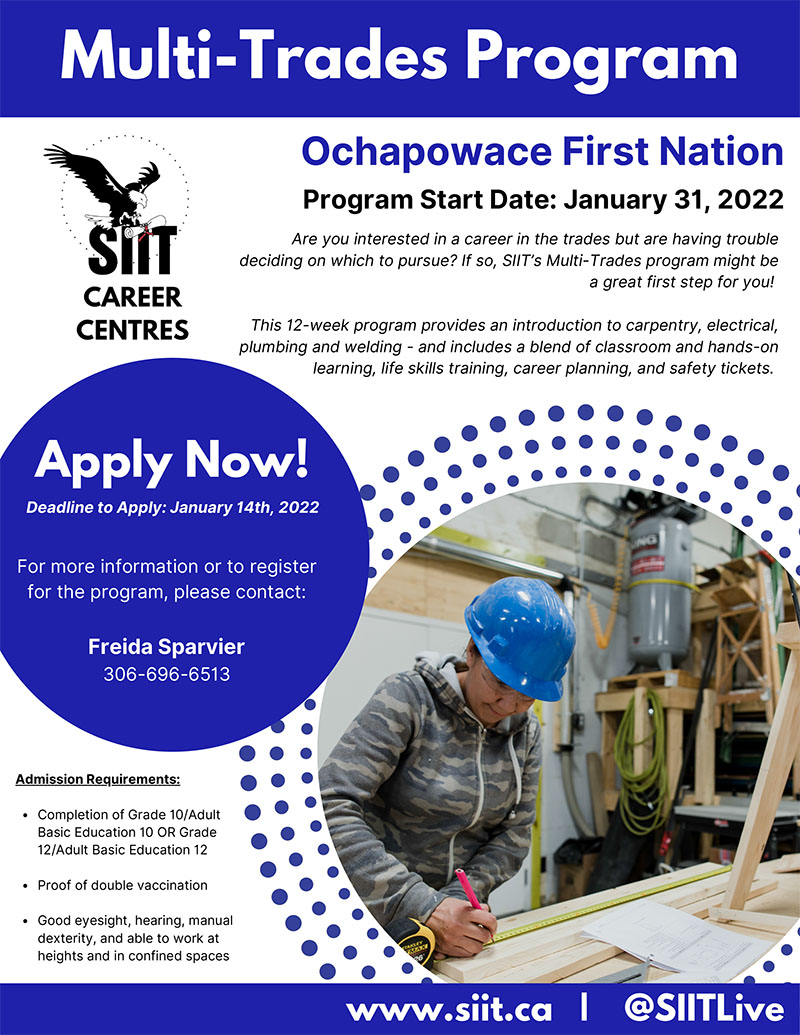 Download the Application Form. Please fill out all required information, save and email to: lfd@ochapowace.ca
---

Saskatchewan Indian Institute of Technology (S.I.I.T.)
Visit website www.siit.ca and apply for funding today through Labor Force Development.
SIIT offers certificate and diploma programs:
Here is a list of 2022 courses available this year:
Post-Secondary Programs
Business
Educational Assistant
First Nations Child Care
Health Care Aide
Indigenous Foundations to Business
Indigenous Practical Nursing
IT Support Specialist
Mental Health & Wellness
Miyoskamin: Innovation & Entrepreneurship Applied Certificate
Orientation to Daycare and HeadStart
Trades & Industrial – Diploma and Apprenticeship Level Programs
Aircraft Maintenance Engineering
Carpentry
Electrical Applied Certificate
Power Engineering
Process Operation Technician
Welding
Trades & Industrial – Trades Pathway Programs
Auto Body Repair
Automotive Service Technician Preparation
Concrete Forming
Construction Worker Preparation
Heavy Equipment Operator
Guest Services Representative
Mining Industry Pre-Employment Program
Outdoor Power Equipment Repair
Residential Renovation and Construction
Scaffolding
Tri-Trades
Steel Stud and Drywall
Volunteer Firefighting Training
Trades & Industrial – Testing and Certification
Boiler Lab Training – 4th Class Power
Canadian Welding Bureau (CWB) Test Preparation
Carpentry Refresher
Adult Basic Education
Adult 10
Adult 12
ABE Bridging to Adult 12 Program
Essential Skills for the Workplace
Essential Skills for Indigenous Early Childhood Education
Download the SIIT Application Form. Please fill out all required information, save and email to: lfd@ochapowace.ca
---
2012 Program Status
As of March 31, 2013, Labour Force Development closed off the 2012/13 fiscal year assisting in career training. Those individuals were:
Sharon Watcheston – Office Education (completed)
Julia Belanger – Office Education (completed)
Additional resources were accessed in March to assist with the Level 1 Carpentry Program.
Other activities included job assistance for individuals to attend interviews and work placements/training assistance for individuals starting new employment.
The Economic Development office continues to network with employers and companies on their labour force requirements. Partnerships agreement and MOU's are currently being explored with surrounding companies to supply a workforce consisting of Ochapowace Nation members.