Program and Services
The department provides service to the Ochapowace Nation member in areas such as; daily Administration, New Housing, CMHC programs, Plumbing, Housing maintenance, Infrastructure, Band Homes, Community buildings, roads, sanitation, water, management for budgets, Band Base Capital reports, ACRS, CAIST,(capital asset inventory system tracking) CMDB (Capital Maintenance Data Base) Annual infrastructure Reporting, 5 Year Capital plans, helped & assisted with building structures for summer games & powwow. Sheldon has shared that he has gained much insight working for the people of Ochapowace and feels valued and appreciated for the work he does.
---
House Maintenance from CB Homes
---
Solid Waste Transfer Station
Solid waste drop-off for residents and businesses of Ochapowace Nation and local contractors.
Open for public drop-off from:
2:30pm - 4:30 pm, Monday to Friday
Please report to the Site Office before dropping off wastes. The attendant has the right to inspect and/or refuse loads.
Unauthorized dumping of wastes inside or outside the facility is strictly prohibited.
Household Hazardous Waste Safe Disposal:
Items accepted for disposal:
single use and rechargeable batteries
used oil filters & oily rags
fluorescent light tubes
waste paint and solvents
toner cartridges
Recycling Bin
Items accepted in Recycling Bin:
Paper and Cardboard

Newsprint, Paper, Junk Mail, Magazines, Phone Book, Catalogues, Toilet Paper Cores, Tissue Boxes, Milk Cartons, Cereal Boxes, Paper Bags, Unsoiled Pizza Boxes, Flattened Cardboard Boxes

Plastic

Plastic Containers (numbered 1-7), Plastic Milk Jugs, Shrink Wrap, Plastic Bags, Laundry Soap Containers, Plastic Hangers, Laundry Baskets, Shampoo & Body Wash Bottles, Pill Bottles, Yogurt Containers, Salad Dressing Containers, Disposable Coffee Cup Lids

Tin & Aluminum

Pop Cans, Pie Tins, Soup Cans, Vegetable Cans, Other Food Cans (with or without labels)
Recycling Bin
Items not accepted in Recycling Bin:
Glass
Styrofoam
Ceramics
Light Bulbs
Soiled Cardboard
Hazardous Chemical Containers
Scrap Metal
Car Parts
Plastic Toys
Household Garbage

Reuse Center
Items must be clean and in good condition. Household items such as:
Furniture
Toys
Clothing
Electronics
Appliances
Construction Materials
Compressed Gas Cylinders/Vehicle Batteries Drop-Off
Scrap Tires/White Metal Goods Drop-Off (Freon Refridgerant devices such as fridges, air conditioners, etc)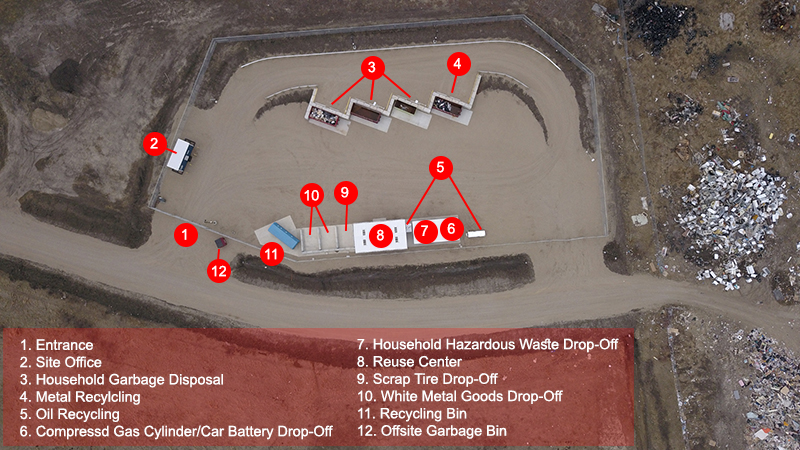 ---