August 5, 2022
PUBLIC NOTICE
Greetings Citizens,
We are proud to announce that in the 2021-2022 fiscal year there were 16 Home Ownership Grants administered to Ochapowace Nation members. Each grant totalled $15,000. Please join us in congratulating the grant recipients.
We are equally proud to provide another call out for another 10 (ten) grants for the 2022-2023 fiscal year.
As per section 6.2 of the policy, all applications for assistance must complete the required application form. The policy and application are posted on our website, navigate to the departments link, then scroll to housing and public works and you see the link to the policy. Within the policy is application. Kindly submit your completed application form to the Ochapowace Housing Authority.
Please contact our Housing Manager Twila George through her email twila.george@ochapowace.ca or contact her at the Housing office (306) 696-2655.
10 Grants Available of $15,000
Support First Time Buyers or to pay down existing mortgage or;
For renovations/upgrades to mortgaged home or;
Combination of both.
Respectfully,
Heather Montana
Executive Director of Operations
Ochapowace Nation
https://ochapowace.com/departments/public-works-and-housing/homeownership-assistance-program-policy
---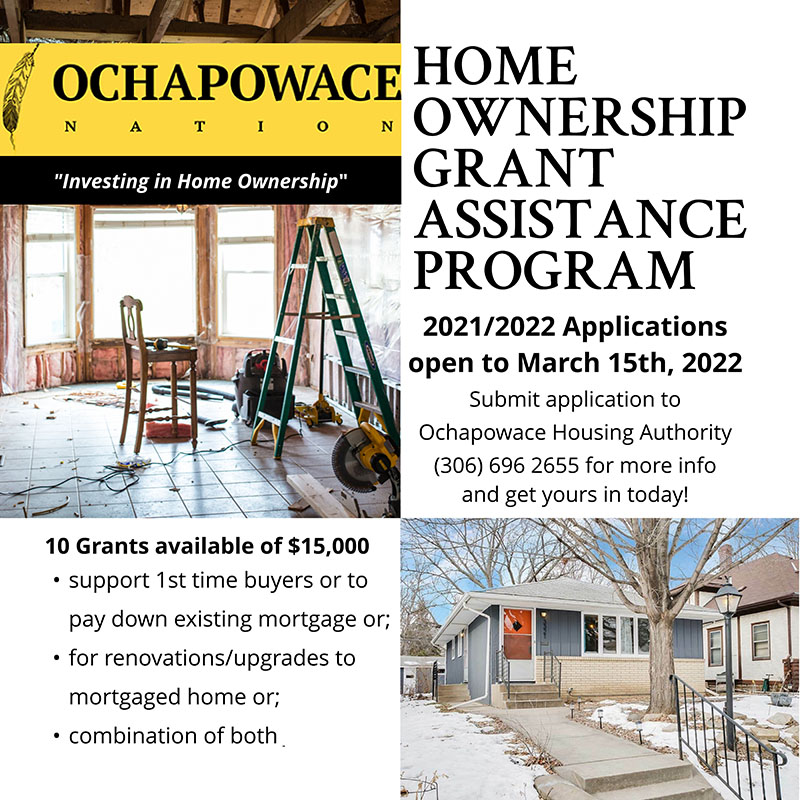 Please download and review: